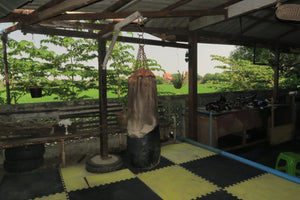 The Art of 8 Limbs
Muay Thai is a martial art when done with skill resembles a beautiful dance. It embodies respect and  discipline using 8 weapons - hands, elbows, knees, and feet.

It is the National Sport of Thailand.
It is a contact sport.
It is self defense.
It is physical and mental conditioning.
Join others at Talon in learning
THE ART OF 8 LIMBS
THE DANCE OF MUAY THAI
About the Academy
Talon Muay Thai Academy is recognized as a World Thai Boxing Affiliate (WTBA) Academy, which guides our standards and curriculum. Our class material originates from the teachings of Grand Master Chai (Surachai Sirisute), known to his students as Ajarn Chai, who brought Thai Boxing to the United States in 1968.
Talon was founded by Rhonda Rae Kness, a former educator, group fitness and aerobics instructor. She has studied under Grand Master Chai for over a decade and trained at academies and camps across the world to hone her skills.
"My love for Muay Thai drives me to continue to improve my Muay Thai technique as well as my instructional skills."
- Rhonda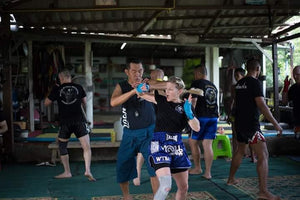 Class schedule
Youth
For students 7 and older.
Monday & Thursday
Adult
For 14 years and older.
Mon & Thurs 5 a.m.
This class is presently on hold
Mon & Thurs Foundational/Learning Muay Thai Class 6 p.m.
Saturday 8:15 a.m.
Mon & Thurs
Training Muay Thai Class 7 p.m.
Saturday 7 a.m.
Introduction to Sparring
Saturday 9:00 a.m.
Competition Classes invite only
CUSTIOMIZE YOUR TRAINING
Want a class with your family, Team Building sessions with friends or coworkers, or maybe one-on-one private lessons, call Rhonda at 
(515) 250-2357 to schedule.
Getting Started
If you're new to Talon it's recommended that you attend the Foundational Classes and or schedule a private session by either calling (515) 250-2357 or hitting up Talon's facebook page.
You are welcome to drop in for a free class but calling prior to attending is mandatory. Classes at times are in different locations or we have people fighting which means we are all supporting our fighter(s). When you come you will need to bring comfortable workout clothes, boxing gloves, hand wraps, water and a good attitude. But please, no shoes on the mat!
Flip flops required for off mat use.
Will you get hit in Muay Thai? Yes, it is a contact sport however we learn control before we learn anything else. At Talon we pride ourselves in teaching technique which leads to controlled striking. Controlled technical striking generates power and speed.
Do you have to fight? Absolutely not! It is perfectly normal to be a practicioner of the art. We encourage students to train in Muay Thai and enjoy the benefits it brings to your daily life.
Testimonials
I have trained at Talon for a little over 1.5 years now. During this time of training under Kru Rhonda Rae Kness, I have lost approximately 70 pounds and gotten into the best cardio shape I have ever been. Consequentially, my life outside of training has become so more fruitful. Kru Rhonda's thorough guidance and eye for detail gave me enough comfort as to step in the ring myself. During that fight camp, she went above and beyond to make me as prepared as possible. If you truly want to learn such a great art, and how to protect yourself, do yourself a favor and come spend some time with the Talon family. You won't regret it! Thank you Kru Rhonda for everything!

khop khun khap

Jacob, Current Student
Talon Muay Thai is excellent! High quality instruction and great equipment. A fun intense experience for anyone. A++

Kurt, Law Enforcement Officer
I have had the pleasure of training at Talon Muay Thai. Rhonda Kness is dedicated, knowledgeable and encouraging. Solid techniques were shown and all questions answered. Every time I get a chance to stop in I leave having learned something new to improve my game. I have much respect for Talon Muay Thai and look forward to my next visit.

Liz, Amateur MMA Fighter
With her background in teaching, Talon owner, Rhonda Rae Kness understands how to teach people of all ages and skill levels. Her passion for the art of Muay Thai makes her a great instructor and motivator. Rhonda Rae creates a welcoming and encouraging environment with focus on correct technique, physical fitness and the fine details of Muay Thai.

I am happy to recommend Talon Muay Thai to both beginners and seasoned martial arts practitioners.

Brian, Current Student
I started at Talon roughly 3 months ago and have never looked back!

The progress I made is a testament to the knowledge and coaching acumen of Rhonda Rae Kness. She is welcoming, knowledgeable, technique-driven and is not afraid to allow students to find their own style. I not only enjoy learning Muay Thai but enjoy the stories and wisdom Rhonda offers with passion and a love for the sport. Her passion is infectious, and the results it has provided me are a direct result. I cannot thank Rhonda enough for her tutelage and for making it fun!

Justin, Current Student